Museum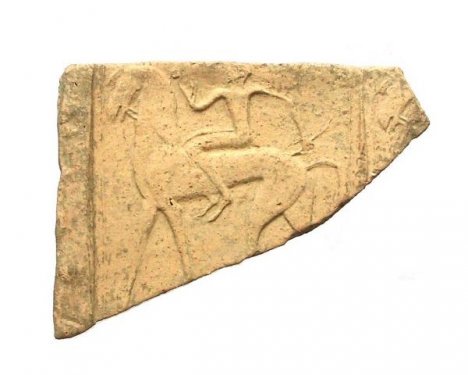 Terracotta pinax ('plaque') with two segments of a frieze with horsemen, found during the Scavi Stoop 1963-69 on the Timpone della Motta, 650-630 BC, height 10 cm, National Archaeological Museum, Sibari.
III.A.7. Terracotta pinax with horsemen frieze
Of the locally produced pinakes this one, depicting a cavalcade of horsemen, is with it's length of 10 cm the smallest. Certainly it cannot have been mounted on the roof of a building, but perhaps it fitted a miniature temple model.
The stamp - probably cut in wood - used by the coroplast to create the pinax contained the negative of a horseman facing a thin vertical separating band. It was used to make a mould with repeating horsemen, probably three per mould. The effect of a cavalcade of horsemen was achieved by joining several pinakes (Fig. A.). A thick rim was added to the first pinax – the one found - and probably to the last one as well.
Pinakes usually have holes in the top section (here broken away) used to fasten them to a wooden beam. The frieze may have adorned an entrance, a throne or a naiskos (compare Museum no. III.A.5.).
The pinax depicts a long- legged horse with a rider who rides bareback, while with his left hand applying a whip to the horses' haunches and in the other holding the bridle.
Because there are no weapons the scene probably refers to equestrian demonstrations.
On the basis of ancient texts Natacha Lubtchansky[i] traces superior horse dressage techniques in ancient Italy to Sybaris.
The scene on the Francavilla pinax is remarkably similar to painted images on Late Geometric pots, especially two without provenance from the art market and one from Cumae, all three usually attributed to Etruscan workshops (Fig. B), but which possibly also can be attrubuted to South Italy.
Lubtchansky's conclusions, the presence at Francavilla of vase painters working in Euboian and Attic style (Museum nos. V.B.1. and V.B.4.A.) and this pinax fragment all point towards influence from South Italy.
It is tempting to connect the ancient tradition of the 'Troia Games' with their horse movement of labyrinthine type with the Athenaion on the Timpone della Motta (compare Museum no. IV.B.4.).
The pinax was found during the Scavi Stoop 1963-69 [ii] on the Timpone della Motta and is exhibited in the National Archaeological Museum at Sibari (no. 65411).
[i] N. Lubtchansky, Le Cavalier tyrrhénien. Représentations équestres dans l'Italie archaïque, Bibliothèque des Écoles Françaises d'Athènes et de Rome, 2005.
[ii] Stoop 1970-71, 52.