Museum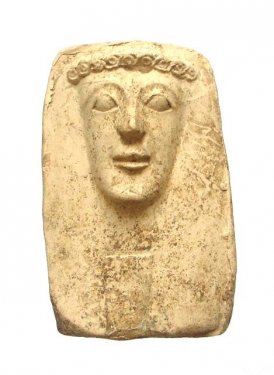 Terracotta pinax (small slab) with a protome (bust) of a veiled goddess, produced for the sanctuary on the Timpone della Motta, height 7.7cm, mid- 7th c. BC, National Archaeological Museum Sibari.
III.A.1.Terracotta protome of a veiled goddess
The head, with its long face, strong chin and large eyes, was produced from a mould (matrix), which implies that more specimens probably existed. The production of terracotta's from moulds is a characteristic of sanctuaries, where the terracotta's were used as dedications to deities.
The style is usually called Daedalic, which nowadays means only that Greek coroplasts from Crete or the Peloponnesus were probably involved.
The lower end of this pinax is not broken off but never extended further. This places the bust in the category of protomai, one of the earliest in South Italy. Protomai are interpreted as images of goddesses rising up from the Underworld (anodos figures): the head is above the earth, while the body is still below.
Cosmic spring festivals to celebrate renewal and fertility were associated with the goddesses Demeter, Artemis and Athena. This bust would then represent an image of Athena anodos.
Recently, however, the anodos interpretation of this bust type was challenged. Instead, the pinakes are being interpreted as representations of women offering an image of themselves to the goddess of the sanctuary.
The most characteristic element of protomai (also of later popular types) is the veil, which probably refers to a special occasion in the life of women that may or may not have been associated with the goddess. Veils are also worn by the women on the procession pinax from Francavilla Marittima (compare no. III.A.9.), an interesting parallel with this protome.
Other significant characteristics of the Francavilla protome are the absence of hole to attach it to something, and its location, when found, on the temple floor, together with pinakes of the Dama 2 type (see no. III.A.3.).The contrast between these two pinax types is remarkable: the protome figure is veiled and partial, the Dama 2 is full-length and crowned with a festive headdress. The pinakes could refer to the goddess (Dama 2) and a priestess (this protome). In a cultic context, however, it might be more logical to interpret them instead as representations of two different phases in the life of the goddess and of the girls/women venerating her. In Athena's case these phases were probably fertility and renewal (which is to be expected of a Levantine/ Cretan/ Trojan Athena), and in the case of her followers, two bridal stages: preparation in the veiled figure, presentation in the full-length one.
The object comes from Temple V.d on the Temple plateau on the Timpone della Motta, Scavi Kleibrink 1991-2004, no. AC05.06.tc02. It is now in the National Archaeological Museum at Sibari.