Museum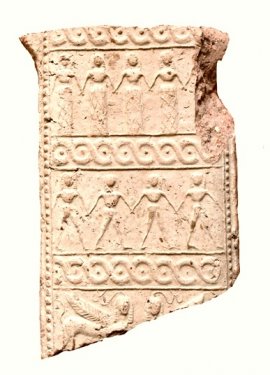 Fragment of the sacred apron of a terracotta pinax (plaque) representing the goddess Athena, found on the Timpone della Motta, 7th c. BC, height 13.3 cm, National Archaeological Museum, Sibari.
III.A.2. Apron fragment of a Pinax of the 'Dama 1' type
Close to Athena's sanctuary on top of the Timpone della Motta, a workshop existed during the second half of the 7th c. BC that produced terracotta plaques (Greek: pinakes) from shallow moulds. These were pinakes with scenes, as well as images of a single goddess which are archaeologically classified as the Dama 1, 2 (cf. Museum no. III.A.3.) and 3 (cf. Museum no. III.A.4.) types.
By far the best known of these pinakes from the Athena sanctuary are the fragments of a 35 cm-high representation of Athena. Sadly, the head of this pinax has not yet been found.
The reconstruction (Fig. A) shows the figure's – so far unique - clothes. Over an ankle-length, tight-fitting dress woven in a crosshatched pattern is an equally tight bodice with a scale pattern. A stiff ceremonial apron, decorated with broad horizontal ornamental bands, is fastened by long cords that are wound several times around the waist. The same cord, with tiny balls attached to it, also lines the apron's hem.
Although scaled garments – rare in any case - are perhaps not exclusively worn by Athena in this period, here, in the context of her sanctuary, such a garment was undoubtedly used by the artist to identify her by.
Highly conspicuous elements of the decoration of the apron are the two friezes depicting dancing girls and boys. The dancers are rendered in a stiffly frontal pose and with hands crossing at the wrists.
Because such scenes in Greek art are usually painted on pots associated with sanctuaries (cf. Susan Langdon), dances of boys and girls were probably performed during festivals in the sanctuary of Athena on the Timpone della Motta. The scenes painted on the 'pyxis by the Francavilla painter' (Museum no. IV.B.4A.) are an earlier example of such festivities. The goddess in the Athenaion evidently presided over the coming of age of young men and women, who honoured her with dance, song and libations.
The fragments, found during the Scavi Stoop 1963-'69, come from the South Fill of the temple plateau of the Timpone della Motta.
A larger skirt fragment from a similar pinax is known from the Collection Sant'Angelo, now in the Archaeological Museum at Napels. The collection stems from /// and the pinax fragment is evidence of early looting that took place on the Timpone della Motta.
The object was found by Dr. Maria W. Stoop in the South Fill of the Timpone della Motta and is now exhibited in the National Archaeological Museum at Sibari.