Museum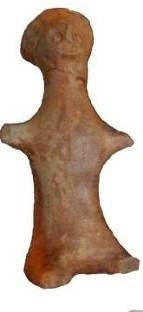 Goddess with uplifted arms, terracotta figurine, height 18.5cm, found in Tomb 69 of the Temparella burial mound in the Macchiabate necropolis, 2nd half 8th century BC, National Archaeological Museum, Sibari.
III.B.3. Terracotta figurine of a goddess with uplifted arms from Temparella Tomb 69, Macchiabate necropolis.
As was the case in tombs 2 and 78 of the Temparella burial mound at Macchiabate (cf. Museum no. and III.B.2) this terracotta figurine was also found in the grave of a young child, probably a girl. The figurine was placed with its backside against the top of the head of the dead girl, clearly in a protective position.
The child buried in tomb 69 probably belonged to a rich and influential family, for she was buried not only with this exceptionally tall and impressive figurine but also with a costly scarab of the 'lyre-player group' placed on her breast (cf. Museum no. II.A.1.3).
This terracotta figurine was made by an artist who followed the earlier tradition of the goddess with raised arms (compare figurines Museum nos. III.B.2, //) but who was able to 'modernise' the concept by making the neck shorter and creating a more 'sacred' impression by adding a kalathos (high diadem) to the head.
On the basis of the most likely date of a scarab from the same grave, the figurine's date lies probably somewhere in the last quarter of the 8th century.
The presence of a deep hole in the top of the head, clear scratch marks around that hole, and the presence of a small bronze chain found near the figurine all suggest that it was originally suspended. It cannot have been hanging in the grave, however, because none of the burial tumuletti found by Zancani Montuoro showed timber struts, which indicates that the river cobbles that covered the graves were piled directly on top of the deceased.
Perhaps this figurine, and other terracotta figurines found in tombs of children, originally hung near places where the children were normally active, in order to offer maximum protection.
The figurine was found by Paola Zancani Montuoro in the Macchiabate necropolis and is now in the National Archaeological Museum at Sibari.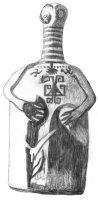 Fig. 1. Painted wheel-thrown figurine with solid, handmade head, from the grave of a child (T14) in the Serraglio necropolis on the island of Kos, Kos Museum no. 586, height //, 8th c. BC (drawing after Higgins 1967, pl. 6E).