Museum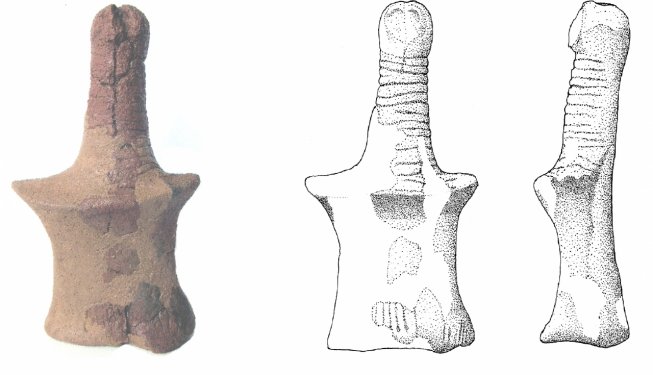 Goddess with raised arms, terracotta figurine, height 13cm, found by Paola Zancani Montuoro in Tomb 78 of the Temparella burial mound on the Macchiabate necropolis, first half 8th century BC, National Archaeological Museum, Sibari.
III.B.2. Terracotta figurine of a goddess with raised arms, terracotta, from Temparella Tomb 78, Macchiabate necropolis
Macchiabate necropolis Tomb 78 of the Temparella tumulus contained the bones of a child that had been buried with a clay amulet around its neck, a closed vessel at its feet and this terracotta figurine beside its head, next to an askos.
The figurine has a long neck decorated with incised rings, stumpy raised arms and a protruding ridge running from one arm to the other. Stylistically the figurine closely resembles the terracotta Divine Couple found in Tomb 2 (see III.B.1), and it may come from the same Francavilla workshop.
Interestingly, this figurine has several characteristics typical of Greek painted terracotta's. The neck and head resemble those of a figurine found in a girl's grave on Kos, and the protruding breast and stumpy arms resemble those of Boeotian terracotta of uncertain provenance in the National Archaeological Museum in Athens. This was in fact the terracotta that inspired the mascot of the 2004 Olympic Games in Athens.These stylistic similarities show that the Francavilla coroplast followed widely known Mediterranean iconographic conventions when creating this image of the goddess with raised arms.
Figurines with raised arms have a long pedigree, going back to the Minoan and Mycenaean goddesses of life and death, who were thought to appear and reside on earth with the arrival of new vegetation in spring and to disappear again in winter. The raised arms indicate the goddesses' epiphany (appearance).
It is surprising that such an old Mediterranean goddess was known at Francavilla Marittima before the middle of the 8th c. BC and that her functions included the protection of children.
It is this aspect of the goddess that is stressed by the presence of the figurine in Tomb 78 and reinforced by the fact that it was buried beside an askos. In the Macchiabate necropolis askoi are almost exclusively found in the tombs of children. In slightly later tombs this combination of a figurine and an askos is replaced by askoi decorated with a painted, stylised image of the goddess with raised arms (see xxx).
The figurine was found by Paola Zancani Montuoro in the Macchiabate necropolis and is now in the National Archaeological Museum at Sibari.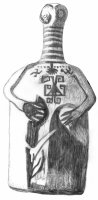 Fig. A. Painted wheel-thrown figurine with solid, handmade head, from the grave of a child, T14, of the Serraglio necropolis on the island of Kos, Kos Museum no. 586,8th c. BC (drawing after Higgins 1967, pl. 6E).