Museum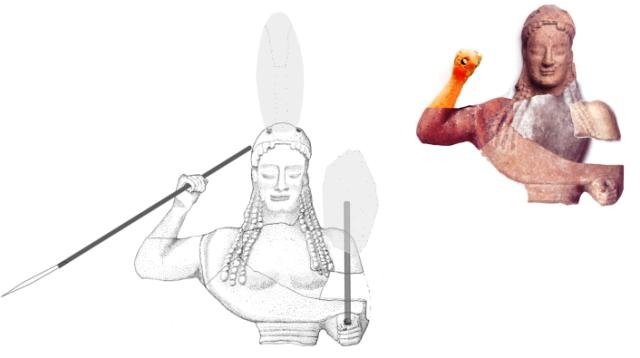 Athena Ilias (Palladion), terracotta figurine, recomposed from several fragments found on the Timpone della Motta, last quarter 6th c. BC, National Archaeological Museum, Sibari.
III.A.6. Athena Ilias, or Palladion, terracotta figurine, Athenaion, Timpone della Motta
During the authorised and the clandestine excavations on the Timpone della Motta several fragments of terracotta figurines of a helmeted Athena were found.
Elizabeth Weistra recognised them as belonging to a special type of Athena imitating a cult statue from the last quarter of the 6th c. BC.
This statue of Athena must have been very popular.
In one of the preserved fragments of a head two holes were made to fasten Athena's helmet with helmet crest (lophos), presumably made from other substances.
The right arm of the goddess was raised, no doubt to hold a spear – presumably also added in another material –, the goddess' favoured weapon. The preserved fragments of the left arm and of the body of the goddess do not show remains of the shield that is always present in Athenian iconography.
Because the left hand is held in a fist and rendered at waist height in front of the goddess it must have held a second object.
An earlier well-known terracotta figurine of the Palladion type that was found in the Athenaion at Gortyn on Crete shows the same attitude of arms and hands.
Coins with Athena Ilias' cult statue, struck in later times in Asia Minor, for example at Troy, preserved the Archaic image of Athena Ilias, which shows her with a spear and a large spindle.
In the Athenaion of the Timpone della Motta Trojan references occur frequently, moreover in this sanctuary the veneration of Athena Ergane was already old. These are the reasons why Kleibrink and Weistra propose to follow the East-Greek iconography for the reconstruction of the Athena statue of the late 6th c. BC.
The fragments stem from the various excavations on the Timpone della Motta and are now in the National Archaeologisch Museum of the Sibaritide, Sibari.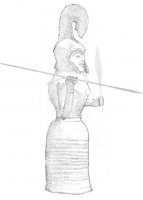 Fig. A.Wheel-made figurine from Gortyn, generally recognised as an early Palladion, in the right hand a spear, in the left hand presumably a distaff, height without helmet 36.2 cm (the helmet was found separately), circa 650 BC, Heraklion Museum 18502 (dr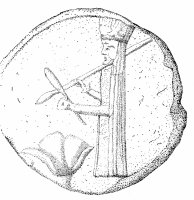 Fig B. Reverse of a coin struck at Ilion, cult statue of Athena wearing a mitra-type of headdress with a long veil attached and a peplos; in her left hand, a distaff or spindle, in her right hand a spear resting on her shoulder, 3rd-2nd c. BC (drawing ad