Museum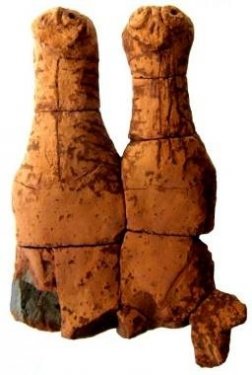 Divine Couple, terracotta figurine, height 9cm, found by Paola Zancani Montuoro in Tomb 2 of the Temparella burial mound on the Macchiabate necropolis, first half 8th century BC, National Archaeological Museum, Sibari.
III.B.1. Divine Couple, terracotta figurine from Temparella Tomb 2, Macchiabate necropolis
This figurine was found in the tomb of a small girl (T2) who had been buried next to her sister (T1) and in front of her mother (T3).
This small group of women represents some of the earliest interments in the large Temparella burial mound at Macchiabate.The long necks of the terracotta figures are incised with several motifs that may mark the distinction between a male and a female individual. Also, one figure is wider than the other.
These figurines were made without arms, but their similarity (except for the long necks) to the small bronze Divine Couple pendants (cf. Museum no. I.A.1.) from other Macchiabate graves, with their arms around each other, is so remarkable that this terracotta undoubtedly represents the same subject: a Divine Couple in hierogamy.
Stylistically, the figurine is so similar to the 'Goddess with uplifted arms' figurine (cf. Museum no. III.B.2) that production in the same workshop is very likely. A rendition of the couple from the bronze pendants in terracotta is highly remarkable and demonstrates the coroplast's creativity. It may have been triggered by a demand for protection other than what the - personal - bronze amulets could provide, for instance protection of a child's activity area or a dedication on its behalf in the sanctuary on the Timpone della Motta.
The figurine was found by Paola Zancani Montuoro in the Macchiabate necropolis and is now in the National Archaeological Museum at Sibari.