Museum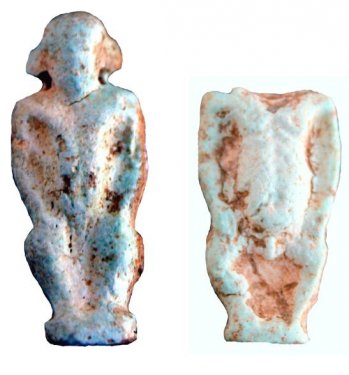 Faience amulet pendants of a dwarf god, so-called pataikoi, found on the Temple plateau of the Timpone della Motta during the Scavi Kleibrink 1992-2004, 7th century BC.
II.A.2.6. Faience amulet pendants of a dwarf god, Timpone della Motta
These small faience pendants from the Timpone della Motta are much worn and the surface colour is gone, but they are still recognisable as figurines of nude dwarfs.
To the Egyptians the short stature and bowed legs of a dwarf were signs of a divine presence at his or her birth. Dwarfs were much respected and often trained to become servants at sacred locations, or to perform ritual dances. Images of dwarfs were placed in tombs to ward off evil and chaos.
Pataikoi are named after a description by the Greek historian Herodotus in which he mentions Phoenician dwarf-shaped amulets, and it was undoubtedly the Phoenicians who introduced objects like these faience amulets to the rest of the Mediterranean.
Their human baby-face and overall infantile appearance distinguishes these figurines from those of the lion-faced Bes (cf. Museum II.A.2.3), -The question is, however, whether the ancient South Italians who dedicated these images in the sanctuary of the goddess Athena knew the difference, or whether they believed all such figurines to offer equal protection during childbirth.
The objects are associated with Temple V.d of the Timpone della Motta, Francavilla Marittima, and they were found during the Scavi Kleibrink 1991-2004. They are now in the National Archaeological Museum of the Sibaritide, Sibari.