Museum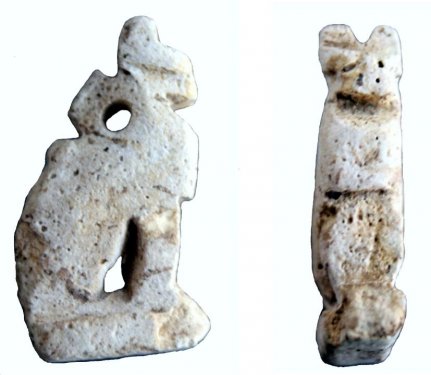 Faience amulet pendant representing the EgyptianGoddess Bastet in animal form. Found on the Temple plateau of the Timpone della Motta during the Scavi Kleibrink 1992-2004. 7th century BC.
II.A.2.5. Faience pendant of the Egyptian goddess Bastet in animal form, Timpone della Motta
The small pendant is worn, and most of its original surface colour – probably green - is lost.
Animal manifestations of deities played an important part in the folk religion of ancient Egypt. In the Late Period the cat goddess Bastet represented protection, fertility and motherhood.
In Egypt mummified cats were offered to the goddess. A large tomb discovered near the town of Beni Hasan contained some 80,000 cat mummies from the 2nd millennium BC.
However, many Egyptian-style faience amulet pendants such as this specimen were not produced in Egypt but on the Greek island of Rhodes and elsewhere, probably by craftsmen trained by Phoenicians, who were experts in producing Egyptianising jewellery and other luxury goods.
Some of the original religious meaning probably still clung to these small cat images, because they surface in places were goddesses of protection and fertility were venerated, such as in this case the sanctuary of the goddess Athena on the Timpone della Motta.
The object is associated with Temples V.B and C on the Timpone della Motta during the Scavi Kleibrink 1991-2004.