Museum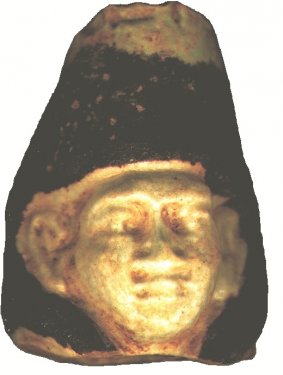 Top of a faience vase in the form of a girl's head. Scavi Kleibrink (nr. c.2-f01), Temple plateau, Timpone della Motta, 7th century BC; and faience frog, stray find, Timpone della Motta.
II.A.2.2. Faience head of a double-spouted vase in the form of a kneeling girl with storage vessel, Timpone della Motta
This charming little head with its heavy Egyptian wig once was part of a faience perfume flask of a rather complex shape. The complete flask showed a kneeling girl grasping with both arms a large vessel (Fig. A).
In Italy similar figure vases have been found in Taranto, Syracuse, Selinunte and several sites in Etruria. Many of the larger musea for antiquities in Europe and America also have examples in their collections.
On the top of the head of the Timpone della Motta fragment the lower fringe of the tall palm crown which once formed one of the flask's double spouts is just visible. Originally the other spout was formed by a little frog sitting on the storage vessel.
A complete faience flask of this type is currently in the Metropolitan Museum in New York (Fig. A).
When in the summer of 2011 the old storage rooms of the Francavilla excavations were being cleaned out, a small faience frog unexpectedly turned up in a bag with sporadic finds from the Scavi Stoop 1963-69. It is almost certainly the spout of a vessel of this type (Fig. B).
Gunther Hölbl and Virginia Webb, who studied faience objects and Egyptiaca extensively, have pointed out that in Egyptian art the palm crown is never applied to figurines of kneeling women with vases, although the motif of the palm crown itself does occur in Egyptian art.
Rather, the position of the vessel between the girl's knees is typically Phoenician.
Such eclectic use of various Egyptian motifs is attributed to Phoenician faience workshops which were probably active on Rhodes, the Greek island where most perfume bottles of this type were found.
Associated with the altar ashes of Temple V, found on the Timpone della Motta during the Scavi Kleibrink 1991-2004.
[1] Herrmann, Ariel 1997: Recent Acquisitions, A Selection: 1996-1997. The Metropolitan Museum of Art Bulletin 55(2): p. 11.