Museum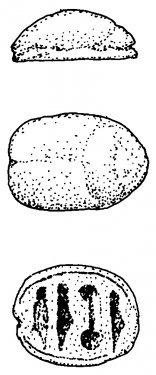 Faience scarab with four hieroglyphs, width 1.9cm. Found on the Temple plateau of the Timpone della Motta during the Scavi Kleibrink 1992-2004. AC2799.s01, late 8th - early 7th century BC.
I.C.1. Faience scarab with hieroglyphs, Timpone della Motta
This bluish-green faience beetle shows little detail, but clypeus, elytra and legs are indicated. The poor workmanship strongly suggests mass-production and/or using worn moulds. On the backside the lack of abrasion has preserved of some traces of glaze.
The four hieroglyphs consist of two maat feathers, maat meaning 'justice', and possibly a nefer which means 'good/ beautiful', while the fourth hieroglyph may be a neb or basket, meaning 'all/ everything'.
This would suggest a possible (admittedly amateur) translation of "all things good and just". This wish, in many variations, is often found on this type of scarab which was produced for the Greek market, possibly on the island of Rhodes. Similar scarabs were found in major Greek sanctuaries of goddesses such as Hera at Perachora or Athena at Lindos.
At Perachora a similar scarab comes from the so-called 'Egyptian pit', dated to the period 750-675BC. The Francavilla scarab is relatively large.
Oenotrian and Greek visitors of the sanctuary on the Timpone della Motta were familiar early on with Egyptianising objects, such as the bronze bowls found at the site which had been imported by Phoenician traders, together with pendants, scarabs and beads of glass and faience since the 9th century BC.
This does not mean that Oenotrians or Greeks could actually read the hieroglyphs, but they may have been familiar with the main signs (as we are today), or they may have acquired the scarabs in good faith, trusting them to be beneficent.
This scarab was found on the surface of the fill of a post-hole of Temple V.c. The excavators believe that many jewellery items on display in the temple were dedications to the goddess by boys and girls of marriageable age, one of whom in this case offered a scarab that had protected him or her during childhood.
Found on the Timpone della Motta during the Scavi Kleibrink 1991-2004, now in the National Museum of the Sibaritide, Sibari.