Museum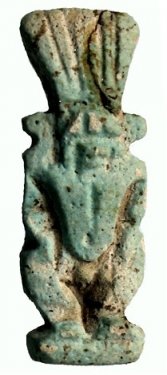 Faience figurine of the God Bes, height 3.5 cm, found on the Timpone della Motta, 7th c. BC, National Archaeological Museum, Sibari.
II.A.2.3. Bes in faience
The Egyptian bandy-legged dwarf god Bes is depicted nude, standing on a plinth against a back pillar and wearing his feather crown.
In the sanctuary of the Timpone della Motta circa 10 such figurines of the god Bes have been found, all of different types. The sand-based and glazed material is in most cases not as well preserved as with this specimen.
The figurines are mould made and workshops have been postulated also for places outside Egypt, for instance on Rhodos.
The popularity of the god during the Greek period is reflected in the enormous quantity of small faience figurines from the 7th c. BC.Bes' ugly looks were thought to help drive away evil and to bring joy, especially during childbirth his dancing, shouting and the shaking of his rattle were thought to be effective against evil.
Because Athena's sanctuary on the Timpone della Motta from early on was dedicated to a goddess of fertility and marriage the small charms of the god Bes are very good gifts to the goddess, perhaps even dedicated by pregnant women to accompany a prayer for an easy and happy delivery and for the health of the baby.
The object is associated with Temple V.d on the Timpone della Motta, Scavi Kleibrink 1991-2004, no. AC03.14.fa28, and now in the National Archaeological Museum at Sibari.