Museum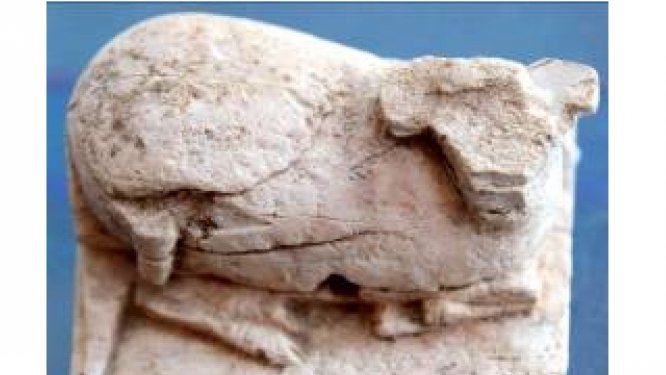 Ivory couchant ram, from the Scavi Kleibrink 1991-2003, Timpone della Motta, width c. 5cm, early 7th c. BC, National Archaeological Museum, Sibari.
I.B.3. Ivory couchant ram, Athenaion, Timpone della Motta
The head and legs of this ram, carved in one piece from a block of ivory, are unfortunately damaged. The animal is shown reclining, on a thin rectangular base decorated underneath with incised crosshatches.
The object is horizontally pierced in the centre, through the belly, which suggests that it was worn on its own as an amulet or mounted on a fibula. A parallel piece, also from the Athenaion on the Timpone della Motta, is among the looted objects in the Ny Carlsberg Glyptothek at Copenhagen.[1] The same collection also possesses an ivory couchant bull from the Athenaion.
This group of similar ivory animal-shaped seals suggests that an itinerant Greek artisan worked for some time in the Athenaion.
Similar pieces have also been found in the sanctuaries at Sparta and Perachora, which suggests the Peloponnesos as the most likely home of the ivory carver. He must have been inspired by North Syrian examples; there, these motifs had been used earlier for stone seals.
The object comes from the Scavi Kleibrink 1991-2004 on the Timpone della Motta, AC25.25A.iv01 and is now in the National Archaeological Museum at Sibari.
[1] Van der Wielen, Van Ommeren, De Lachenal 2008, 212.