Museum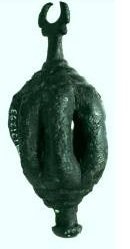 Bronze pendant of the 'bird cage' type, height 7.2cm, from the Timpone della Motta (former Bern-Getty collection), now in the National Archaeological Museum at Sibari, 8th century BC.
I.A.4. Bronze pendant of the 'Bird Cage' type
Many specimens of this widely distributed type of pendant are known, in several varieties: from Luristan and Central Asia to Greece, Italy and France.
Usually the cage contains a small bronze ball, which has led cataloguers to classify the object as a rattle. The ball belonging to our pendant may have disappeared.
The object is badly affected by fire, and can therefore probably be associated with the altar of the Weaving House.
Studies by Kilian-Dirlmeier have shown that pendants of this type are often found in Greek sanctuaries. Like the other bronze pendants from the Timpone della Motta, this one was perhaps also dedicated by a Greek individual, or at least by a person familiar with the custom of dedicating objects.
The pendant comes from the former Bern-Getty collection of objects looted from the Timpone della Motta, and has been returned to the National Museum at Sibari.
Lit.: Papadopoulos 2003, no. 173.