Museum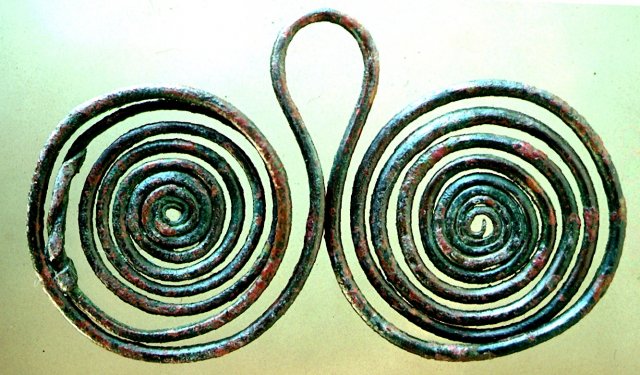 Bronze double-spiral pendant, width cm, found on Timpone della Motta, 8th c. BC., National Archaeological Museum, Sibari.
I. A. 7. Bronze double–spiral pendant
Pendants of this type are known to have been suspended by the raised loop between the spirals.
The ornament is made from bronze wire, the ends of which have been hammered thin in order to be able to form tight centres. Pendants of this kind are often called spectacle-spiral pendant. They have a long history in Western Asia and the Balkans and occur for example in shaft grave omicron at Mycenae, where it is an imported item.
Pendants of this kind are also found in Macedonia and Albania.
The design is obviously similar to the contemporary Oinotrian 4-spiral fibulae, which were found in the richer female burials at Macchiabate (cf. Museum no. //).
Remarkably, no double-spiral pendants have as yet been found in the Macchiabate graves, although they are among the grave goods in contemporary cemeteries near S. Maria d'Anglona and Incoronata.
The pendants hitherto found stem from the temple plateau and are associated with the sacred 'Weaving House'.That the pendants were produced locally and were considered treasured possessions can be inferred from the fact that one of the spirals of this specimen has been repaired.
The objects are associated with the Weaving House and its altar on the Timpone della Motta, Scavi Kleibrink 1991-2004, no. AC //.