Museum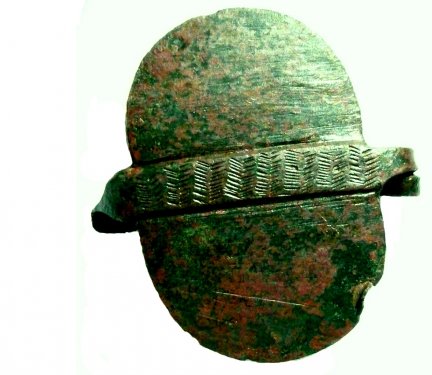 Fibula, of the 'shield' type, decorated with incised herringbone motifs, height 5.8 cm, found on Timpone della Motta, first half 8th c. BC., National Archeological Museum, Sibari.
I.B.1. Fibula of the shield type
The name of the object is an anachronism, because the type of oval shield it refers to did not exist in the region at the time the fibula was made.
The oval part is made by hammering. This type is limited to the Oinotrian regions of South Italy.
The brooch is rather heavy and would pull lighter materials down; it is much better suited to medium or heavy woollen cloth.
A fibula of this type was found in tomb 59 of the Temparella tumulus at Macchiabate, and several more are known from the 'Weaving House' on the Acropolis. The distribution of this type is limited to the Iron Age sites of the Sibaritide, from where it spread further south to Roccella Ionica, Canale e Torre Galli and to the Villanovan sites of Pontecagnano and Sala Consilina.
The object is associated with the Weaving House on the Timpone della Motta, Scavi Kleibrink 1991-2004, no. AC//, and now in the National Archaeological Museum at Sibari.
Lit.:
Lo Schiavo 1983-83, 132-33.
Kleibrink 2000, 172.
Papadopoulos 2006, no. 219.
Martelli 2003, 1-25.