Museum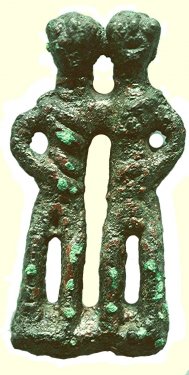 Bronze pendant of a Divine Couple, produced in the Sibaritide, Calabria, height 3 cm, early 8th century BC, National Archeological Museum, Sibari.
I.A.1. Bronze pendant of a Divine Couple
Several similar small bronze pendants come from the sacred 'Weaving House' on the Timpone della Motta and from the 'Strada' tomb at Macchiabate that contained the famous Phoenician bronze bowl. On the skeleton in tomb T59 at Macchiabate another pendant was found, attached to a necklace made of small bronze chains.
The necklace from T59 shows that the pendants were attached to each end of a necklace through the arm loops on the sides.
Because the majority of the known pendants come from sites in Calabria, most of them from near Francavilla Mma, these amulets were probably produced here in local bronze workshops.Further evidence for this is another pendant found at Francavilla representing a hieros gamos (holy matrimony, see Museum no. ), which was probably the prototype to these simpler pendants. It shows how they were influenced by Levantine ideas.
This object stems from the Weaving House of the Temple plateau on the Timpone della Motta, excavated during the Scavi Kleibrink 1991-2004.