Museum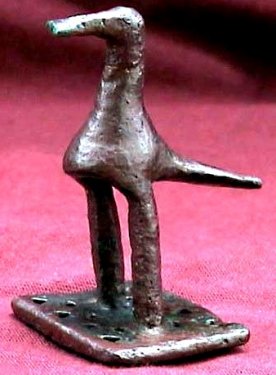 Bronze pendant of a water bird on an open-work base, Laconian, height 4.7cm, base 2.1 x 1.9cm, second quarter of the 8th c. BC, National Archaeological Museum, Sibari.
I.A.3. Bronze pendant of a water bird on an open-work base, probably from Sparta.
This small bronze bird comes from the fill of the sacred 'Weaving House' on the Timpone della Motta; a similar bird surfaced in the same context.
The flat-tipped, elongated beak and relatively long legs suggest that this probably represents a water bird. It is constructed as a stamp; the open-work pattern of the base results in a geometric figure.
Stylistic research has attributed such birds to workshops in Sparta (Greece). There, skilful artists used the cire-perdue (lost wax) technique to make small copper-alloy objects like these birds, and also the more famous - and contemporary - small Geometric-style horses.
Together with fragments of a so-called black cup from Euboia, the two bronze water birds are among the earliest imported Greek objects in South Italy.
The people dedicating the birds may have come from Greece, because similar birds have been found in many 8th-c. BC Greek sanctuaries. They occur in Zeus' sanctuary at Olympia and are especially abundant in Athena's sanctuary at Tegea and sanctuaries of Artemis in Thessaly.
The association of water birds with goddesses shows that they symbolised water - that life-giving element - and thus fertility. Many different types of such small bronze birds are known from Villanovan, Halstatt and Greek cultures, which demonstrates a long and persistent tradition.
The object stems from the fill of the Weaving House on the Acropolis of the Timpone della Motta, found during the Scavi Kleibrink 1991-2004, no. AC05.05.br01.