Museum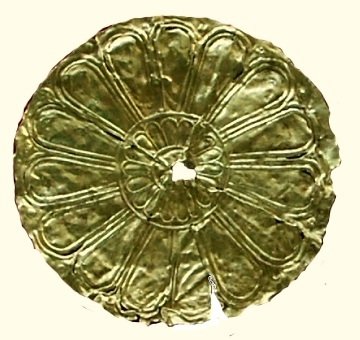 Gold rosette with 18 outer and 15 inner petals, diameter c. 4cm, from the former Bern-Getty collection of looted objects from the Timpone della Motta, 6th c. BC, National Archaeological Museum, Sibari
0.A.I. Gold rosette with two circles of petals, Athenaion, Timpone della Motta
Examination of the gold has shown it to be an alloy with a very high gold content and only c. 3% silver. This makes the gold foil soft and therefore easily worked into fine patterns such as this one. A fragment of a similar rosette from the Athenaion, of gilded silver, is known from the Scavi Stoop.
Such rosettes were highly traditional items; they already occur in the Mycenaean period. In the Archaic period they are found in Greek sanctuaries and in major non-Greek ones along the Ionian Coast, including those of Hera Lakinia, of Kore at Lokroi Epizephyrioi and Apollo Alaios at Cape Krimisa (although the rosettes at the latter site are of a different type).
The rosettes from Francavilla Marittima were almost certainly associated with a cult statue of a seated Athena Ergane, because terracotta figurines of that goddess from the site show a large rosette on her breast in the place where the goddess usually wears the Gorgoneion (compare Museum no. III.B.6).
Moreover, these gold foil rosettes are very similar to the 6th-century BC ones from the famous chryselephantine statue of Apollo from Delphi ( Fig. A).
The object stems from the former Bern-Getty collection of looted material from the Timpone della Motta. The rosette is now in the National Archaeological Museum at Sibari.
Lit. Papadopoulos 2003, cat. 1.